A.C.C.E.P.T. Group for Neurodivergent Adults > 30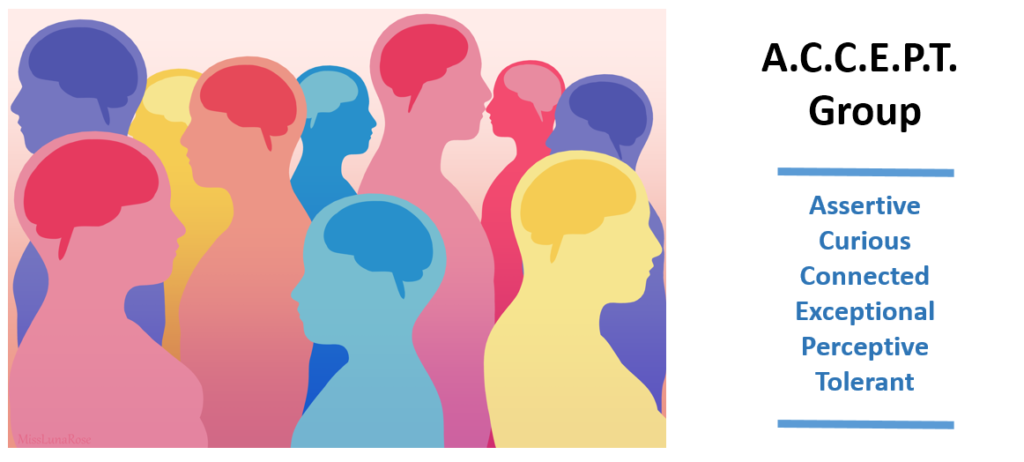 The ACCEPT Group for Adults > 30 is ideal for those who want to explore your neurodivergent operating system, build communication and self-advocacy skills, share experiences and strategies with other neurodivergent adults and live an authentic and meaningful life.
Jan 23-May 29, 2023: Mondays 6:00-7:45 pm
Reserve your spot by December 12, 2022
Complete the form below
We meet for ten sessions, biweekly:
Week 1: Introduction What does it mean to be neurodiversity-affirming and DBT-informed?
Week 2: CURIOSITY What's my unique neurodivergent operating system (NDOS)?
Week 3: PERCEPTION How do I perceive the world through emotions, senses, and mind?
Week 4: ASSERTIVENESS What's my communication style?
Week 5: CONNECTEDNESS How do I relate to others and others to me?
Week 6: EXCEPTIONALITIES What is my place in a neurotypical world?
Week 7: TOLERANCE How do I change what I can and live with what I can't?
Week 8: Special Topics
Week 9: Special Topics
Week 10: Wrap-up How can I practice compassion for myself and others?
COST: $85/session for 10 sessions

Group Facilitator: Wendy McGuire, MSW, RSW*, PhD

Wendy McGuire provides neurodiverse and LGBTQ2S-affirming counselling and trains mental health professionals. She combines her therapy skills with ten years of academic teaching with the neurodiverse population to promote self-awareness, self-regulation, and improved executive function, attention, and time management.