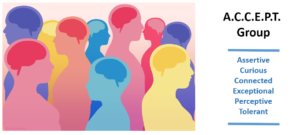 April 25-June 13, 2022: Mondays 4:00-5:30 pm
Reserve your spot by April 15, 2022
Weekly themes
Week 1: What is DBT-informed and neurodiverse-affirming therapy?
Week 2: What's my unique ND operating system?
Week 3: What's my communication style?
Week 4: How do I relate to others and others to me?
Week 5: How do I perceive the world through my emotions, senses and mind?
Week 6: What is my place in a neurotypical world?
Week 7: How do I change what I can live with and what I can't?
Week 8: Wrap-up
COST: $85/session for 8 weeks (10% discount if paid in full by April 22)
Group Facilitator: Wendy McGuire, MSW, RSW*, PhD
Wendy McGuire provides neurodiverse and LGBTQ2S-affirming counselling and trains mental health professionals. She combines her therapy skills with ten years of academic teaching with the neurodiverse population to promote self-awareness, self-regulation, and improved executive function, attention, and time management.